DiscFerret
The first prototypes of the DiscFerret hardware are now in the hands of developers -- we're aiming for full production around mid-Summer or early Autumn! Keep checking back, and feel free to join us in #discferret on irc.freenode.net!
If you're interested in developing software for the DiscFerret, please get in touch! Several Limited Pre-production (LPP) units are being assembled and will be available shortly!
DiscFerret is a combination of hardware and software that allows a standard desktop computer to read, analyse and decode the data on almost any floppy disc, and most MFM and RLL hard disc drives. This includes standard formats like PC DOS, but also more unusual formats like AmigaDOS, Apple (II and Mac GCR) and also more esoteric formats like those used on the Intel MDS/ISIS, Northstar and Sirius-Victor 9000 platforms. Imaging is performed at the lowest possible level -- that of magnetic transitions, which allows everything which can be represented on-disc to be imaged for later analysis.
The source code and CAD files for the DiscFerret design are completely open-sourced: the hardware and software are released under the GNU GPL (in the case of the board, microcode, and firmware) or the Apache Public Licence (in the case of the DiscFerret Hardware Access Library).
An IRC channel for support and development has been established. Please join us in #discferret on irc.freenode.net.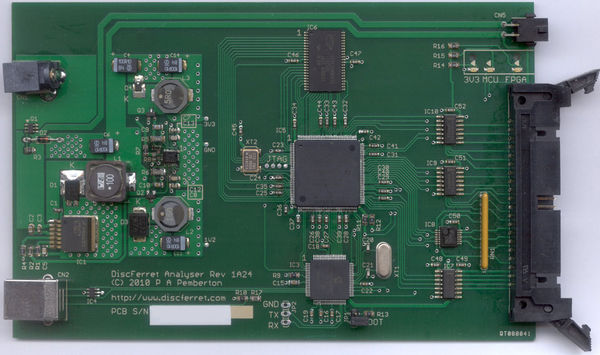 News
2012-APR-17 -- We've been helping out the Prince of Persia Source Code Recovery Project! The DiscFerret Project supplied a DiscFerret 1A24 prototype unit, which successfully produced images of several source code disks. We're now hard at work analysing and decoding the contents of these images... See the '#popsource' hash-tag on Twitter for more information! -- Philpem 22:30, 17 April 2012 (BST)
2012-JAN-11 -- DiscFerret Microcode 0028 and C API v1.5 have been released and are on the Downloads page. These releases fix several critical microcode bugs -- users should update to these releases as soon as possible. --Philpem 21:50, 11 January 2012 (GMT)
2011-DEC-31 -- DiscFerret Microcode 0026 and C API v1.3 have been released and are on the Downloads page. Philpem 21:43, 31 December 2011 (GMT)
2011-DEC-23 -- DiscFerret development has now resumed after a "brief" hiatus. Microcode updates are on the Downloads page, and the source code is available from the usual place (http://hg.discferret.com/). --Philpem 02:44, 23 December 2011 (GMT)
2011-MAR-21 -- The DiscFerret now supports 8-inch disc drives. Support has been added to Microcode 0x0021; the source code for this is in the "microcode" repository. -- Philpem 01:22, 21 March 2011 (GMT)
Links